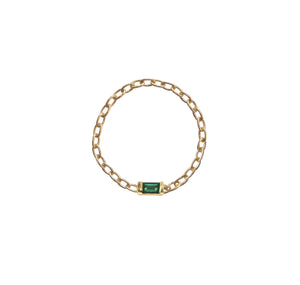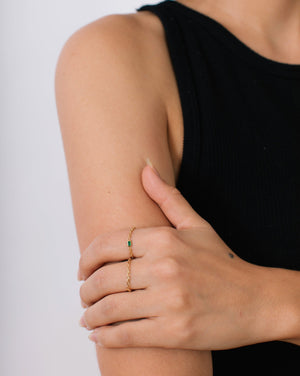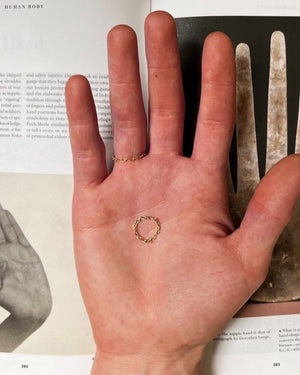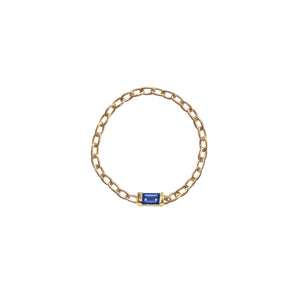 Ava Ring with Stone
From $528.00
---
Emerald
Emerald is derived from a Persian word meaning "green gem". It changed from Greek to Latin as smaragdus, then to esmaurde, esmralde, and in the 16th century to esmeralde.
For VRN emeralds is our favourite colour to source as for us green represents the power of life, abundance and balance. The emeralds we source for VRN only carries this intensity.
All emeralds are sourced sustainably.
Discover more
Baguette Diamond
Diamonds on earth where formed about 100 miles below the earth´s surface, more than one billion years ago. The energy of stones and diamonds have a great story on the timeline of earth and human history, diamonds are a great example of a natural stone earth cook, and how human can transform that stone and cut it to get the best of it.
One of our favourites is the baguette cut, as we love the simple shape, it was presented through 1920s when ArtDeco was defining the style.
All diamonds are sourced sustainably.
Discover more
Meteorite
To have a piece from outer space! Meteorites make you dream, there's an intense sense of belonging that a meteorite make you feel. They have an elegant and subtle shine when light reflects.
All meteorites are sourced sustainably.
Discover more
Sapphire
Sapphires are rare and complex stones, we believe that sapphires are protective, deep stones that balance energy and shield the person who wears it with positive energy.
Throughout history various cultures have attributed mystical powers to sapphires, including heavenly powers, truth, innocence, peace, and good health. In ancient times it was believed that sapphires protected their wearers from evil. Because of the blue color, which they associated with the heavens, Europeans in the Middle Ages believed that sapphires cured eye diseases and preserved chastity, along with providing other heavenly blessings. Sapphires have also been used to symbolize nobility and faithfulness.
All sapphires are sourced sustainably.
Discover more
Yellow Diamond
Yellow diamonds are rare, exciting and cool, the way they camouflage when combined with yellow gold is really magical. They have the same energy of the sun, related to be a booster of abundance and connection to a higher source.
All yellow diamonds are sourced sustainably.
Discover more
Opal
Magical, fun and mysterious, opals are an intimate and sophisticated way to celebrate life. Created by fossilized water opals have an iridescent shine that is trigger whit light and create a spark of joy. We source all types of opals.
All opals are sourced sustainably.
Discover more